Hose, cord, and cable reels are essential components for applications found in industrial manufacturing operations and other industries.
Durability and reliability are highly demanded out of the equipment used in rugged environments, specifically in factories, power plants, steel mills and ports.
Koreel's robust and high-performance standard and custom cable reeling devices are designed and built for use in a variety of industries, from general manufacturing/assembly plants, steel mills, coal-fired power plants (e.g., cable reels for stacker/reclaimers for coal transport, etc.) to ports (e.g., cable reels for cranes used for container loading & unloading).
Koreel recently succeeded in developing a high-speed cable reel with an inverter-controlled method that moves cranes 240m/m. It will be applied to the unmanned RMGC(Rail Mounted Gantry Crane) in Busan Port, which is expected to contribute greatly to the improvement of productivity in Busan port.
For reference, the technical development stage of crane movement speed is divided into Induction Motor Type (25 m/m), Torque Type (45 m /m), Magnet Coupler Type (100 m/m) and the Inverter Type (240 m/m) developed this time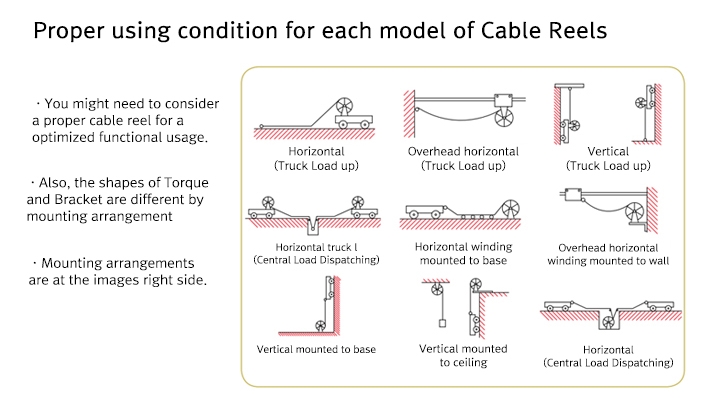 Cable reels
Spring driven type
Motor driven type