AMP Product Explanation
The vessel docked in the port generates contaminants and noise while it runs its own diesel generator for the use of electrical equipment, which adversely affects the surrounding environment. To reduce this pollution, a technology has been developed to supply onshore electricity to ships. This is also known as Alternative Maritime Power (AMP) or cold ironing, Onshore Power Supply (OPS).
While each country is interested in reducing pollution from ships at anchor and is working on countermeasures, the United States is pursuing the strongest measures in this area.
In December 2007, the California Air Resources Board enacted emissions reduction regulations from ships moored (container ships, ferries, refrigerated vessels). From January 2023, these vessels will need to receive 80% of their electricity needed from onshore, or reduce 80% of their pollution emissions. The rule currently applies to all ports, including 6 ports: the Port of Los Angeles, the Port of Long Beach, the Port of Oakland, the Port of San Diego, the Port of San Francisco, and the Port of Hueneme. It also applies to roll-on/roll-off ships (from 2025) and tankers (L.A. Port, Port of Long Beach from 2025, and the rest of the ports from 2027).
The European Union is also pushing for the introduction of the AMP system in phases by 2025 in accordance with the EU Directive on Deployment on Alternative Fuel Infrastructure.
However, in October 2021, the European Commission saw that the existing Directive 2014/94/EU was loose and proposed a new directive on mandating the use of onshore electricity in ports and docked vessels (container ships, roll-on/roll-off ships, high-speed ferries, and other ferries). The new directive requires EU member states to have onshore electricity supply facilities in their ports by January 2025 and vessels to be equipped for onshore electricity use by January 2030.
The first country in Europe to install onshore electricity supply facilities in a port is Sweden. In 2001, the Swedish port of Gothenberg installed an onshore electricity supply facility, and in January 2021 it was also installed at the roll-on/roll-off terminal
This has led European ports to take a proactive stance towards onshore electricity supply facilities as part of their pollution reduction measures. Antwerp, Bremen, Hamburg, Haropa and Rotterdam signed an MOU on 21 June 2021 to promote the installation of onshore electricity supply facilities. In particular, the container terminal is set to have all onshore power supply facilities by 2028.
The cruise center Altona in Hamburg, Germany has already been equipped with an onshore electricity supply facility to supply onshore electricity to cruise ships moored at the port, and the new cruise centers HafenCity and Steinwerder, which are now under construction, will also have onshore electricity supply facilities by 2024, with onshore electricity supply facilities at all cruise terminals in Hamburg by 2025.
The Port of Rotterdam in the Netherlands is pursuing a plan to provide onshore electricity for 90% of its docked vessels at the port by 2030. The plan is to provide onshore electricity to 90% of roll-on/roll-off ships, ferries and cruise ships, and 50% of large container ships (over 10,000 TEU).
The German port of Bremen plans to install an onshore electricity supply facility (10 units in total) for marine vessels (8 units) and inland canal vessels (2 units) by the end of 2023. The Norwegian port of Kristiansand installed onshore electricity supply facilities for cruise ships in 2018 and is also pursuing the installation of onshore electricity supply facilities for cruise ships at the Port of Flam.
Meanwhile, the International Organization for Standardization (ISO) has also enacted the IEC/IEEE 80005-1:2009 on the High Voltage Shore Connection (HVSC) system for supplying onshore electricity to ships moored. This standard specifies the design, installation, and testing of HVSC systems, distribution systems, and vessel connections of onshore power.
In line with this global trend, South Korea has also recently begun to install AMP systems in its ports, and as of 2020, 25 high-voltage AMPs and 197 low-voltage AMPs have been installed in Busan, Ulsan, Gwangyang and Incheon ports, and will be installed in other ports such as Pyeongtaek Port.
Reducing pollution from ships moored around the world is no longer an option but a requirement. In other words, AMP systems are now becoming a must-have of ports and vessels around the world.
As a pioneer and an industry leader in the field of AMP systems, Koreel Co., Ltd. designs and builds weather resistant, durable and performant AMPs based on innovative technologies. Koreel Co., Ltd. is a leading cleantech company that designs and offers connection and electrification solutions to enable decarbonization in ports and other industrial applications, and aims to contribute to the creation of a cleaner, safer and more efficient world of the future. In recognition of these technologies, Koreel Co., Ltd. is working with Hyundai Global Service (HGS) to pioneer the global AMP system market.
---
Koreel's AMP system has the following competitive advantages:
Firstly, we design and fabricate premium quality reel devices. Based on UG NX and SolidWorks-based in-house design capabilities and the manufacturing skills of experienced engineers, we develop custom reel devices for AMP system that meet the specifications and installation locations (we hold AMP-related patents)
Secondly, our custom reel devices are price competitive. We are gaining a competitive price through innovative and efficient manufacturing processes and in-house production.
Thirdly, we have a wealth of experience. We have a wide range of AMP types (Reel Type, Dispenser Type, Mobile Type) of production/installation/operation practices and track records to ensure reliability.
Fourthly, we offer on-time delivery and A/S through in-house design and fabrication and can be supplied within 60 days of ordering. A/S is available and 24-hour emergency operation system at Incheon Headquarters Factory/Gunsan 1,2 Factory/Busan Sales Office/Jeonju Factory (planned)
---
The need for AMP System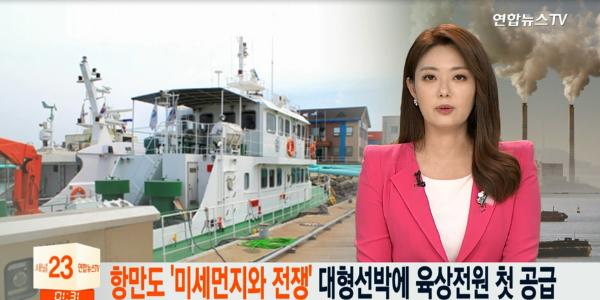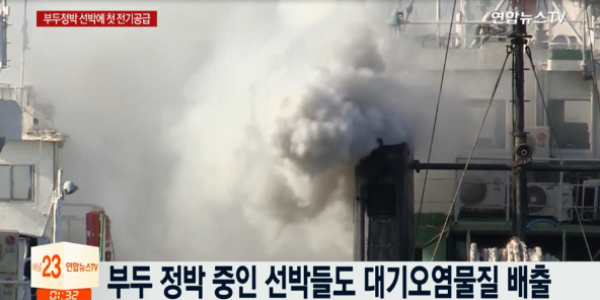 ---
AMP System Cable Specifications
High Voltages(6.6kv)
3*185sq+1*95sq+6*2.5sq+24fo
4*185sq+10*2.5sq+12fo
3*120sq+2*35/2sq+24*1.5sq+24fo
3*95sq+2*35/2sq+6*2.5sq+24fo
Low Voltages(480v)(Number of cables changed according to ship capacity)
4*300sq+6*2.5sq+24fo->5Line
4*240sq+6*2.5sq+24fo->5Line
Depending on the ship's capacity, the cable selected may varied.

It is a list of commonly used things and determines the power cable specification and the number of control cores when initially determining and designing.

It also decides whether or not to apply to fiber optic depending on whether it is used for communication.
---
Marine transport (80% of global trade) - Emissions of pollutants(90% of total transport)
→ Use of fuel with high pollution source such as light oil and heavy oil.
---
AMP system needs in developed countries.
Introduction of USA, Italy, Germany, France, Holland etc.

China AMP system will be actively reviewed from 2010

Parallel construction of power plant to introduce AMP in Busan
New Port new terminal construction in Korea and Incheon, Ulsan Port Corporation (Shipping Newspaper (2009-2-6)
---
There is no development achievement of domestic AMP system and it is recognition stage.
Imported and installed AMP SYSTEM of domestic shipbuilding company (Due to the monopolistic market structure, it is difficult to cooperate with A / S and operation technology)
---
Eco-friendly, energy saving
Fuel consumption : 213.8(ton) = 1*0.5*71.263*30*0.2 ( 50,000T, 30 days Ship anchored)
[Fuel consumption at berth = number of inbound and outbound sailing * 0.5 * fuel consumption factor * berth * 0.2]

Total emissions of CO, SOx, and NOx amounted to about 28.8 tons ($ 13.5 / ton) and generated carbon emission costs of about $ 375.76. (Based on 2010 carbon emission cost)

Fuel Cost : 168,330$ Carbon emission cost : 375.56$ (50,000T, 30 days Ship anchored)

The price of carbon emission will range from 20 to 25 euros ($ 12.9 billion) in December 2011 to $ 2 trillion to $ 8 trillion in 2020