Gas hose reels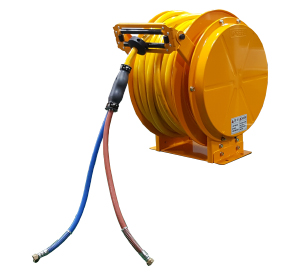 Oxygen & LPG Gas Hose Reel (Single Type)
Newly developed Single Hose which came from Twin Hose ! In case of existing Twin hose, it is difficult to use freely because it is a Twin line hose when used in the field, and work efficiency is lowered due to fatigue between works. In case of the New Single hose, the two rows of hoses are made up of a single circular hose, resulting in very little fatigue in use under any operating conditions and environment. In addition, it can be rewound smoothly to the reel, further more the hose is going to be well organized & installed.
Product Model
(Auto Spring driven type - Ratchet function included)
RGA-830S->for 30M
RGA-850S->for 50M
RGA-860S->for 60M
RGCA-13830S(Carriage+ Hose Reel – for 30M)
RGCA-13850S(Carriage+ Hose Reel – for 50M)
RGCA-13860S(Carriage+ Hose Reel – for 60M)
※ Other specifications available on request.
---
Single line Oxygen Gas Hose Reel Durability test
fork lift Test
It is a test to check the state of deformation due to restoration, load and external impact of the hose considering the harsh environment of the use site.

---
Certificates
1. Tensile load test and burst pressure test for hose, aging test and cold resistance test were judged suitable for use.
2. We made flame retardant materials so that there is no problem when used in steel making field.